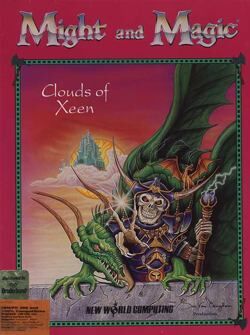 Might and Magic IV: Clouds of Xeen is the fourth game in the Might and Magic series. It was released in 1992 and continues the story arc from the previous installment, Might and Magic III: Isles of Terra, with a whole new party of characters and game engine.
Box Description
[
]
Explore a 3-D world that has fallen under the iron grip of a diabolical overload. Create a personalized party of adventurers and journey to the four corners of your imagination as you strive to complete your mission. Throughout your explorations you will take on fantastic quests, fearsome monsters, and challenges beyond compare. When you are ready, journey to the cloud world and face the ultimate foe... Lord Xeen himself.
The Best Just Got Better!
3-D animated roleplaying epic
256 color VGA graphics
Explicit sound effects
Complete musical score
Automatic note taking
Automapping
Animated help icons
Full screen animations
Turn based game system
Dozens of quests and puzzles
Simultaneous 3-D and overhead display
Hundreds of animated monsters and objects
Simple point and click interface
Hundreds of spells and magical items
Numerous outdoor terrains
Dungeons, Castles, Towns, Towers, Caverns
And much more...
The Clouds of Xeen await you!
Credits
[
]
Designed and Directed by

Jon Van Caneghem

Programmed by

Mark Caldwell
Dave Hathaway

Sound Programming

Todd Hendrix

Computer Graphics

Louis Johnson
Jonathan P. Gwyn
Bonnie Long-Hemsath
Julia Ulano
Ricardo Barrera

Music

Tim Tulley

Technical/Creative Writing

Paul Rattner
Debbie Murphy
Jon Van Caneghem

Production

Richard Espy
Scott McDaniel

Manual Illustrations

Mike Winterbauer